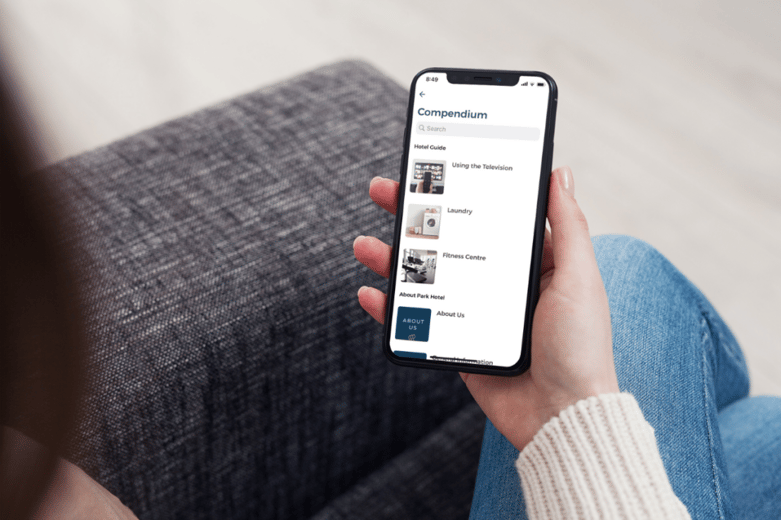 Keeping your guests in the know about your property, local area and general amenities is key to a smooth guest stay. With the right information in the right place, your guests can easily answer their questions or action requests, or find the right person or department to help them.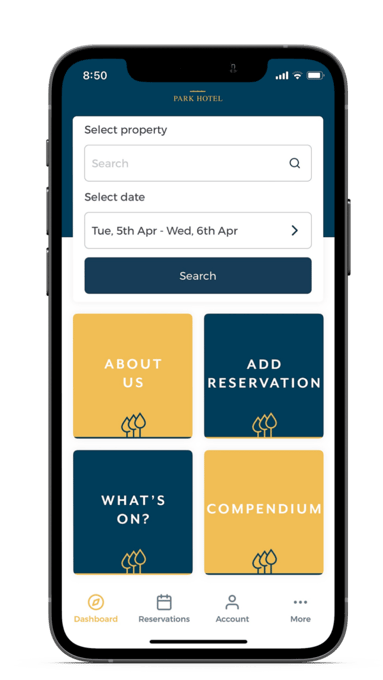 Whether you opt for a compendium on your Guest App, on your television or in-room tablet, providing guests with a comprehensive up-to-date compendium is crucial.
An easier alternative to the paper compendium, consider using one of the many user-friendly digital alternatives. Benefits are significant when it comes to back of house management of your compendium.
Digital alternatives offer staff instant updates, zero printing costs and have a significantly broader scope for guest experience.
Who, What, When and Where
Always have your onsite contact information available for guests and how guests can contact departments. This can either be through a chat function on your app or portal, or a quick dial from the in-room phone.
Clue guests up on emergency procedures, and make the most of emergency functions like alerts, marking safe, and more.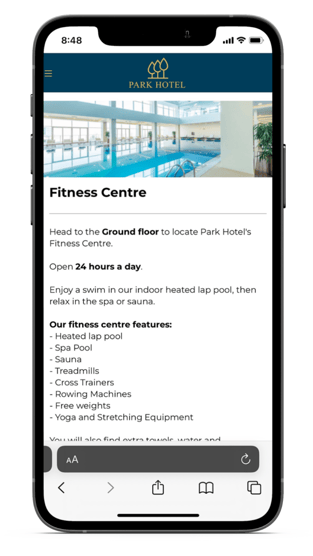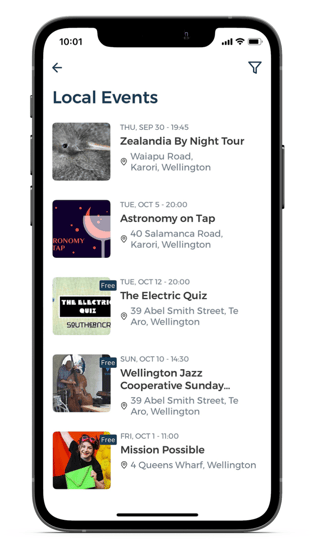 Onsite Amenities
Let your guests know where to grab their morning coffee or their afterwork beer. Would you like to offer them the option to order through the digital compendium? This is often doable with solutions like Guest App and In Room Apps.
Also include information about your Dry Cleaning and Laundry facilities so guests can easily access and use your facilities.
Local Events and Attractions
Highlight the best of what is happening in the local area. Your events and attractions information should be an ever-evolving calendar, which is updated for your guests as soon as you hit save.
Wifi
An easy connection to your wifi is important for your guests. In a connected world, streamline your wifi connections for guests with simple and straightforward instructions.
TV and Entertainment How-To's
Whether you offer guests in room casting for their own media, or a range of channels from your in room television, let guests know how to enjoy the options you have to offer, or how to cast their own media from their device.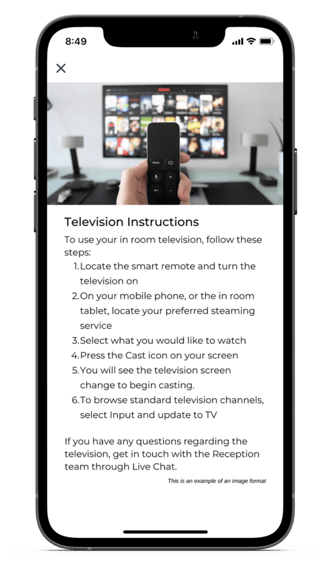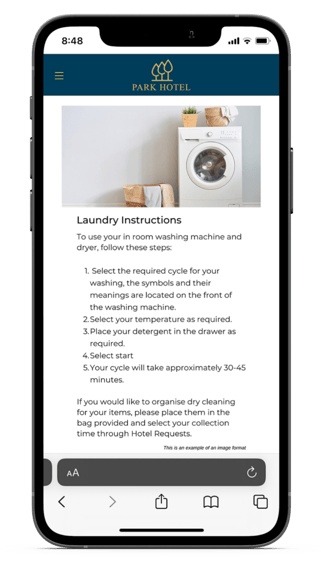 How to use the In Room Amenities
Be sure to include good information about how to use the in room facilities. This can include washing machine and dishwashing facilities, as well as any instructions for in room controls like air conditioning, curtains and lighting.
Often features like Room Service and Guest Requests will be in their own section of your guest-facing solution, but if not, include information around how to order food and beverage, about your onsite restaurant or bar, and information on how your guests can tailor their stay to their preferences.
This includes requesting items like a more suitable pillow, extra towels, additional toiletries, luggage collection and more.
Creating an informative and accessible compendium will help your guests make the most of their stay at your property, while you learn about individual guest preferences, maximise your onsite revenue opportunity and increase guest satisfaction.
Altitude's Guest Experience Platform allows properties to create one compendium to feature throughout their digital solutions like Guest Mobile App, Guest Web Portal and more. Create your pages and build your guest information with easy cloud based interfaces, then instantly update at once.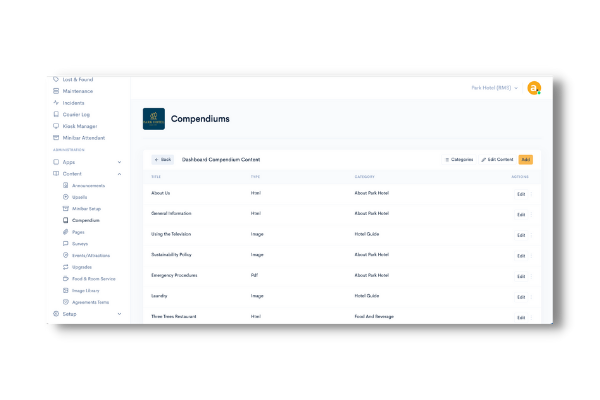 Choose from image, PDF or HTML files for the best fit for your information, then build your page depending on your branding and image preferences.
If you would like to learn more about Altitude's compendium and page features, get in touch with the team below.