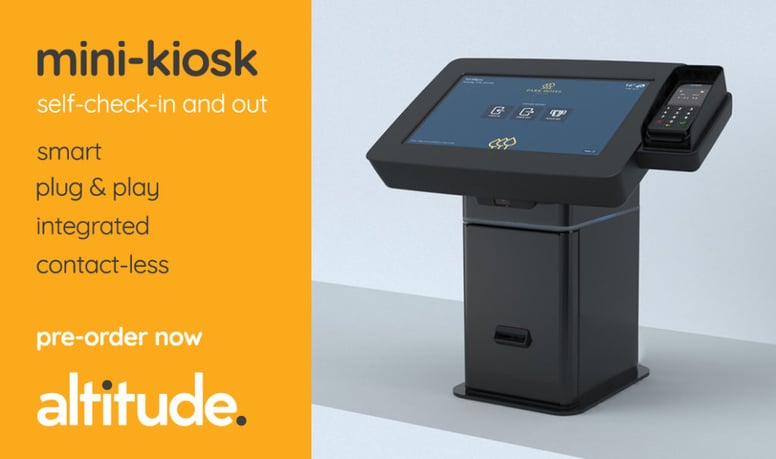 Heading into the new year, the Altitude team are pleased to present the new
Mini-Kiosk
, a powerfully simple solution for your guests to self check in and out of your property.
To celebrate the new design, I caught up with Altitude's Founder and Solutions Director, Anthony to discuss why accommodation providers are leaning towards self-service options for their guests and how the Mini-Kiosk fits in.
Why did you choose to develop the new Altitude Mini-Kiosk?
We understand that hotels' needs, challenges and options have changed over the past year, and we have recognised the need to offer hotels a simple-to-deploy Kiosk. We noticed that operators and their team need an option for support when the hotel is not only busy, but also when it is quiet. Being able to automate processes helps to spread out limited staffing resources and keep the team free to focus on guests.
We made sure that the Mini-Kiosk has an array of smart features including an automatic card dispenser, barcode scanner (for key pickup) and an optional camera. It encompasses all arrival and departure procedures for a property, functioning as the extra pair of hands a Front Office team may need.
Why do you feel accommodation providers are embracing self-service technology over more traditional processes?
Hospitality operators are now facing bigger challenges than ever before. In an industry where the future may change at any time- depending on the regions efforts with mitigating the current pandemic, hotels have been forced to lean out their staffing, and review operating expenses consistently. This unfortunately can play out as reduced staffing levels, reduced rostering hours and tighter control on expenses.
Self-service is the natural direction for many operators to move towards, the costs associated are easily managed, predictable and automate processes surrounding pressure points (specifically arrivals and departures). Self-service gives the guest the ability to choose their own experience and provides a safe, contactless and reliable experience.
How does the Mini-Kiosk or a self-service option change guest service for accommodation providers?
Self-service technology enables hotel team members to spend more time with guests, interacting and engaging, not processing.
The Altitude Kiosk software includes an array of modern features including room upgrades, upsells, loyalty program access and more. A guest can arrive and process their own arrival to the property, with staff members able to instantly assign the guest to the kiosk, or the guest to search their own reservation. The Mini-Kiosk is quick, it's efficient and seamless. The Mini-Kiosk reduces the operational pressures directly faced by staff members and buys the team time.
Can you explain how the Mini-Kiosk works and what install looks like for properties?
We have designed the Mini Kiosk to fit in two areas: semi-permanent and permanent.
Semi-permanent allows the Mini Kiosk to be secured to the reception counter via a simple lock, and can be moved away as required. It gives a hotel a chance to see if a Kiosk suits them and how it will become part of their guest experience.
Installing a Mini-Kiosk is a simple, guided process, the great thing about plug and play software is that the kiosks are ready when you are. Connections to the operator's PMS are recommended but not always required with our portal key pick-up functionality. The Altitude team works directly with operators to ensure that the process is easy and you can see the benefits from the get go.
How does the Mini-Kiosk compare with other options present on the market at the moment?
At Altitude, we are all about sustainable and affordable solutions, we don't believe there is a need for printers or large bulky equipment as we move into the future. At the same time, we don't want to expose a full computer to guests- we focus heavily on both security and aesthetics. The Mini Kiosk is quite literally plug and play.
There you have it, an overview of Altitude's Mini-Kiosk, the move towards self-service within hotels. It's small, it's simple, it's powerful and as Anthony mentioned, it's the additional pair of hands your team may very well need.
For further information, check out the downloadable PDF here.
The Mini-Kiosk is now available for order and ready for install.
If you would like to learn more about how Altitude's Mini-Kiosk can benefit your property, get in touch. We would love to hear from you and help you reshape your digital guest experience.
Contact Us