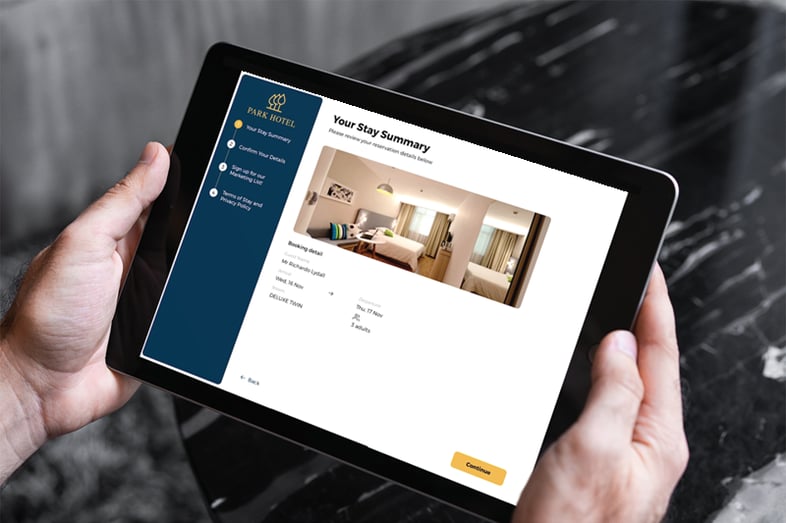 As part of the Guest Experience Platform, the Express App is a digital replacement of traditional registration cards and departure invoices.
With a simple swap to the digital card, staff can update and then cast guest details in real time to a device paired with Altitude.
As a fully customisable and easy to use solution, Express App is the perfect option to cater for guests who prefer to check in at Reception instead of through a mobile app, kiosk or portal.
How does it work?
Altitude's Express app is a plug and play solution that puts an end to printing registration cards and guest bills. All you need is an iPad or tablet on your reception desk, set up your property preferences within Altitude Cloud and install the app on your device.
Once installed, Altitude's Express App enables team members to easily locate and cast the guest registration card or departure bill to the device, as seen in the screenshots below.
Guests can then review and digitally sign their arrival card or departure bill. While the guest reviews and confirms their details, your team is guided through an automated arrival or departure wizard, taking them through each step of the process, from allocating rooms to authorising or taking prepayments for the reservation and writing key cards.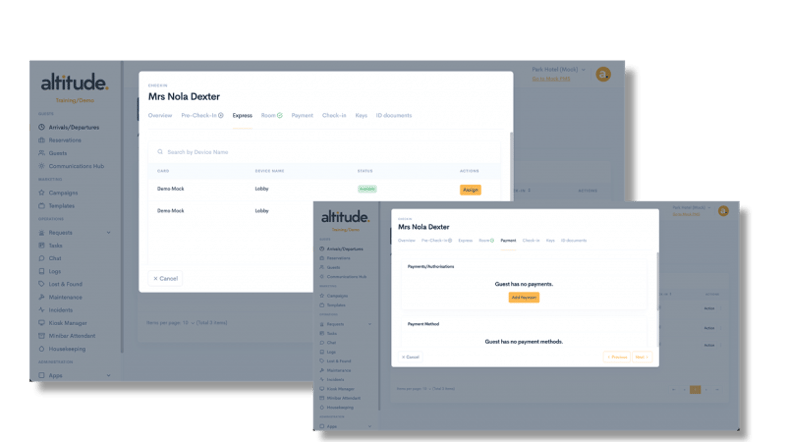 Once signed and submitted, the Express App collates and updates all information onto the guest reservation and profile and voila, you have completed your arrival or departure in a fraction of the time.

Sounds great, but how does it fit in the guest experience?
Imagine a world where guests arrive at your property, beeline towards your reception desk and see a sleek tablet accompanying your front of house team members. The guest states their name and can instantly view their details, submit and confirm their information and accurately update their guest profile.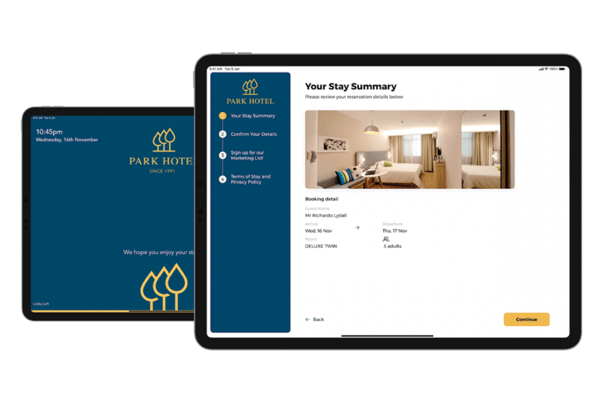 Say your guest needs their early morning americano or after-work gin and tonic and is gravitating towards your restaurant or bar, your team can take the Express App on the move while assisting guests with arrivals or departures. Whether at the desk, floating in the lobby or even in the guests room, the choice is yours. The Express App is flexible and convenient for whatever your guest sequence of service looks like.
Upon departure, guests can view and confirm any charges throughout their stay that they need to settle directly, add minibar and sign off that these are correct. Guests can also elect to have a copy of their account emailed directly to their inbox.
How about the team?
Think no printing, scanning, stapling, filing or looking for missing pieces of paper. Your team won't have to worry about the group huddle to decipher guest handwriting or undertake the task of manually updating guest profiles, Express App does it all for you.
As described earlier, the Express App saves your team time and while doing so, you can make strides towards reducing your environmental impact. Whether it be printing and preparing registration cards and guest accounts for the incoming and outgoing guests, or tidying up after the day that has been, Express App simply automates these processes and cuts out the need for paperwork.
Does it work?
According to our friends at Te Waionui Forest Retreat, located in the beautiful Franz Joseph, New Zealand, they can see that it does work.
"The team have found that using the Express App from Altitude, they are able to capture more accurate guest information in less time, without the need to print any unnecessary documentation. A win-win-win for Scenic Hotel Group, their guests and the environment."
If you are interested in learning more about how Altitude's Express App could help your property, or would like to see a demo, get in touch with us below!