Establishing your guest experience is the perfect way for guests to really get to know your brand and your hospitality. There are many factors to consider, so we have compiled a list of the top five points to help you to create your hotel's guest experience.
1. Know your Guest
The better you know your guest, the more likely you are to plan for and exceed their expectations for their stay at your property. Personalisation is crucial for turning guests into loyal advocates and can be done by understanding your target market and using insights from previous guest stays to elevate their next stay.
Offering best-fit upgrades and upsells to guests is another way you can ensure your guests have the best experience possible. You know your property best, so taking the time to understand your incoming guests and offer upgrades to a more suitable room type not only helps your guests with their stay requirements but supports your bottom line.
Ensure you have solutions in place to capture guest data to build their guest profile. Solutions can include a CRM, or digital guest experience solutions like a Guest App and an In Room App where guest requests are collated on their guest profile.
2. Streamline Check In and Check Out

Think about ways you can streamline your arrival and departure for guests. This will reduce queues at reception and ensure an excellent guest experience. Consider implementing self-service technology and pre-arrival solutions so that when the guest arrives all they need to do is collect their key (or not at all if you have mobile keys enabled) and then can spend their time enjoying your property's hospitality instead of waiting in line.
3. Empower Your Team
You can empower your team by enabling real-time communication, offering strong and consistent training and streamlining back of house processes with automation.
A team who are equipped well to perform in their role are able to make decisions and act quickly when it comes to guest service. True hospitality comes from encouraging your team to do what they do best, guest service, not being bogged down in transactional tasks like data input, paper filing and other manual tasks.
Digital solutions capture accurate data in single workflows and can not only save time for your team for check in and check outs, but can even significantly reduce workload by allowing guests to use their own device and make the most of self-service.
4. Gather Feedback
In order to consistently offer excellent guest service, gathering feedback is a crucial part of the process. By offering multiple feedback opportunities you can understand guest expectations and turn these insights into decisions for your property. You also have the ability to manage your brand reputation and deal with feedback as and when it happens, and be able to turn any negatives into positives before the guests departure.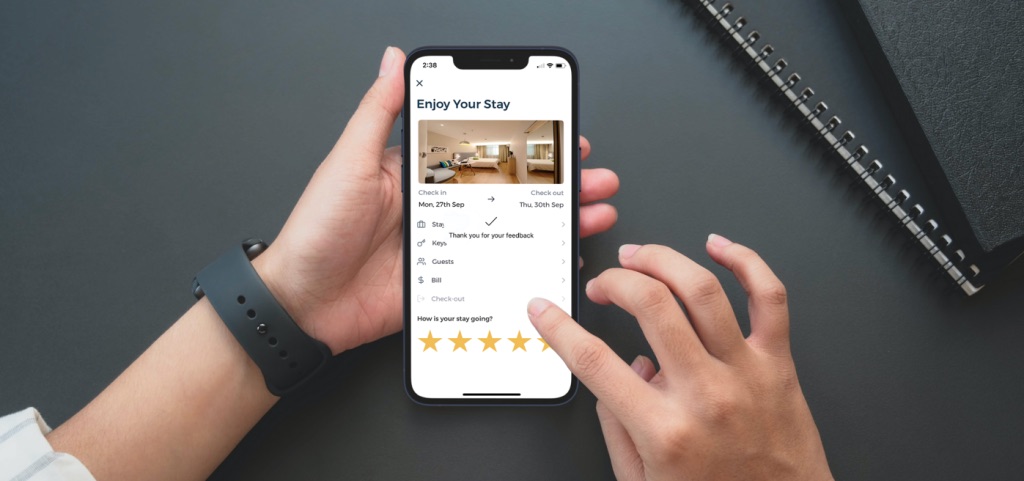 5. Create Convenience for your Guests
Overall, creating convenience for your guests is an extremely important part of any hotel's guest experience. By offering different experiences or opportunities for your guests, you are removing potential friction points and smoothing out their experience.
Convenience comes in many forms for guests, for example, a great way to start is by introducing a pre-arrival and arrival solution for online check in. Guests can use their own device from anywhere to submit their details and payment information, completely skipping any queues in reception. Alternatively, offering in room solutions like an In Room App on a tablet, or a Guest App place your hotel services and amenities at your guests' fingertips.
If you would like to learn more about how to create your guest experience, you can check out our downloadable guide, A Hoteliers Guide to Digital Guest Experience below or fill out the form and get in touch!